Vyond/GoAnimate.

(graphics created in Photoshop and Illustrator). This video was ultimately published within a Storyline "shell" interface to deploy on an LMS.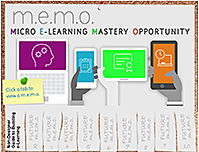 2020: Multimedia Interface for Microlearning Topics (work in progress) - Storyline with Vyond animation; graphics from Photoshop and Illustrator.
---
(Low resolution video intentional for speed of web viewing)
2020 High School Graduation video compilation. (Sample here is purposefully lower resolution [for demonstration only], edited version. 48 min edited to 7 min. Final output was higher resolution.). Individual videos were taken of each student receiving their diplomas at separate, 15 minute intervals (due to 2020s lovely COVID restrictions) and compiled into a 49 minute grad video. June 2020.
---
WEB SAMPLES
View Brightspace & Jive web layout samples